VIAGRA 50mg/25 Tabs
Brand: Intex Pharma
Product: Intex Viagra
Contains: Sildenafil 520mg
Lab Tested Sildenafil 50mg/Viagra x 25 Tablets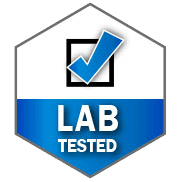 Lab Tested!
Description
Brand: Intex Pharma
Product: Intex Viagra
Contains: Sildenafil 520mg
Lab Tested Sildenafil 50mg/Viagra x 25 Tablets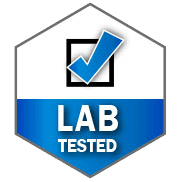 ↓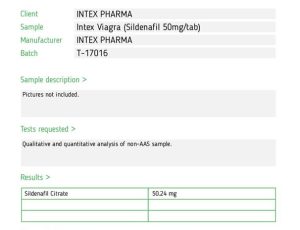 Improved Blood Flow: Sildenafil enhances blood flow by relaxing and widening blood vessels, which can promote better circulation throughout the body. This improved blood flow can potentially benefit muscles by delivering a greater supply of oxygen, nutrients, and hormones necessary for muscle growth, repair, and recovery.
Increased Oxygenation: The enhanced blood flow facilitated by sildenafil can lead to improved oxygen delivery to muscles. Oxygen is essential for energy production during exercise, and increased oxygenation can contribute to enhanced endurance, reduced fatigue, and better overall performance during workouts.
Enhanced Recovery: Sildenafil's potential impact on blood flow and oxygenation may aid in the removal of metabolic waste products, such as lactic acid, from muscles. This can expedite recovery, reduce muscle soreness, and potentially allow for more frequent and productive training sessions.
| | |
| --- | --- |
| DESCRIPTION: | |
| Sildenafil 50mg/tab | 25tabs |